Visa, a financial services company based in California, USA, offers electronic funds transfer products worldwide via credit cards, debit cards, and prepaid cards. Visa's main competitors in the financial services sector are American Express, Mastercard, and Union Pay. Visa has so far dominated the number of used cards and transactions of the United States credit card network. Visa will announce its 4th quarter financial report ending September 2021 on October 26, 2021 (Tuesday) after the market closes.
While most companies struggled following the outbreak of the Covid-19 pandemic, Visa was seen not so badly affected with annual sales in fiscal 2020 reported at $21.2 billion, only down slightly from $23.0 billion in fiscal 2019. In 2021, Visa continued to report encouraging financial reports in the first 3 quarters, where it reported sales and earnings per share that exceeded market projections. In a statement when announcing its financial report last July, Visa CEO Alfred Kelly was quoted as saying that the reopening of the economic sector and the easing of movement restrictions helped boost Visa's revenue.
In addition, Visa continues to innovate in the area of financial services by exploring new branches in Fintech and cryptocurrencies. On July 7, Visa reported consumers spent more than $1 billion in cryptocurrencies on goods and services in the first half of 2021 and this number is expected to increase in the second half of 2021. However, Visa is still struggling to break into the national market of developing countries (emerging markets).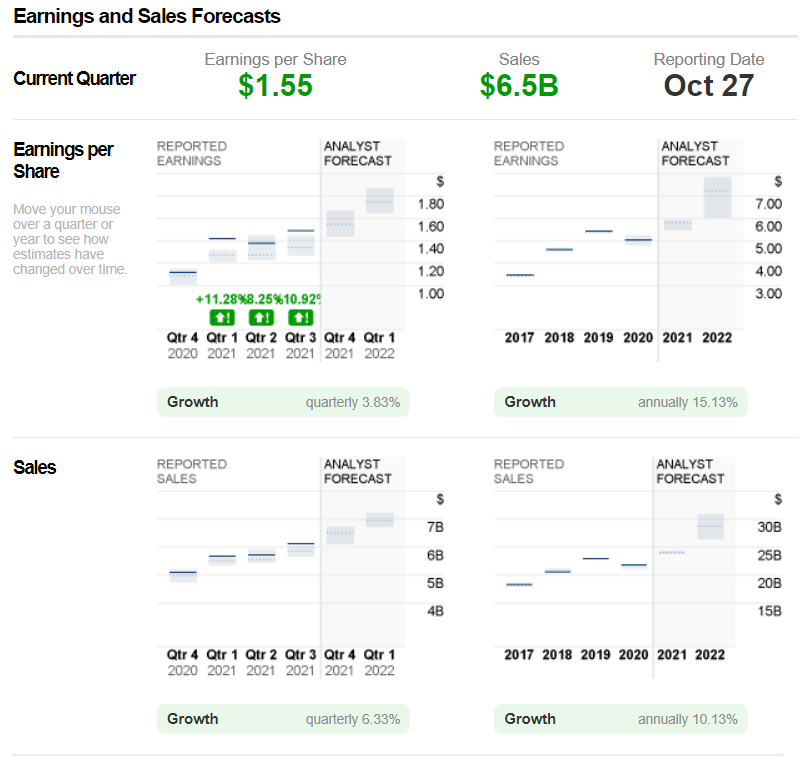 For the 4th quarter report, market analyst Zacks projects Visa sales revenue at $6.48 billion , a 27.07% increase over the same quarter last year, while earnings per share (EPS) is expected at $1.53 per share, an increase of 36.61% over the same quarter last year. Based on the reports of the previous 3 quarters, Visa is expected to continue to post financial reports that exceed market projections for this quarter as well.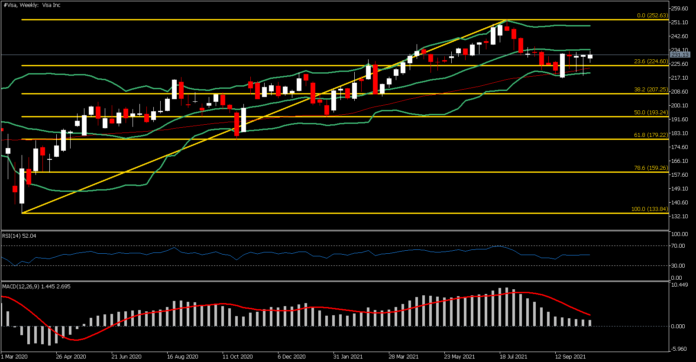 Visa shares (MT5: #Visa) show a post-Covid-19 recovery, in line with gains in the Dow Jones (US30) and S&P 500 (US500). It posted the highest price in history last July at $252.63 before returning a slight slip and is now trading at $231.13 (Friday 23 Oct closing price). It is currently above the weekly MA-50 which is the nearest support near the 23.6% fibo retracement at $224.60.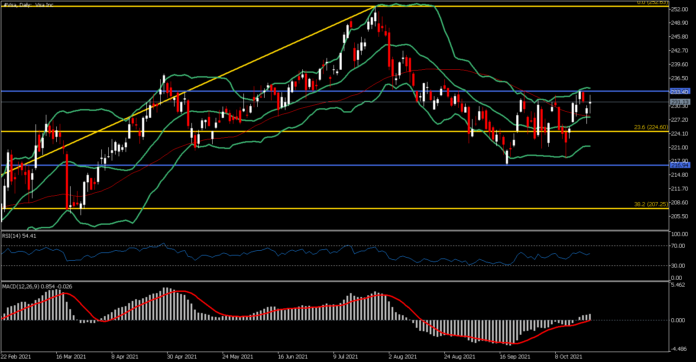 In the daily chart, $216.94 (September low) is the closest support if #Visa continues to decline, followed by the 38.2% fibo retracement level at $207.25. $233.40 is the nearest resistance, near Top BB, and it is the highest price recorded in October. The RSI-14 is in the neutral area around 50 while the daily MACD line signal is also close to the 0 reading and an ascending histogram is starting to form. Based on the daily candlestick movement since September, the #Visa price is now seen in the horizontal range as seen in the horizontal Bollinger Bands situation.